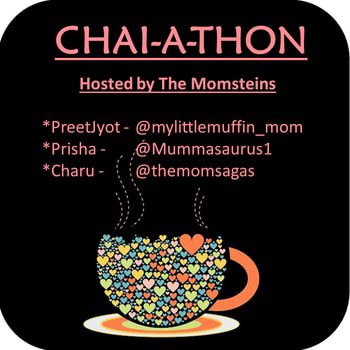 Hosted By :
#MyLittleMuffin
#TheMomSagas
#Mummasaurus
This blog is a part of the Chai-a-thon blog train organized by 'The Momsteins'
Climate in Bangalore these days is changing a lot like the sudden mood swings of a pregnant women. Sometimes it's hot, sometimes it rains, and on the other days it's cloudy. Its like a perfect set up of having a hot cup of Tea or coffee with garama garam bhajiya.
I was never a tea person until I went to IIM. Every student would know the importance of a hot cup of tea in their life. Those long list of never ending assignment, group presentation, quizzes, preparation for next days class would demand a day of more than 24 hours.
We were always awake during the nights cause that was the only time we would get to complete our work. That was the time when I actually started having tea or i would say surviving on tea. We all friends used to meet at a place at night that was a small chai ki tapri inside our institute and work on our group assignments (khali bolne ke liye actual thing was talking and enjoying).
That was the time when I officially started having tea. And trust me by the time I stepped out of IIM I was actually a tea addict and that too late night tea. Those long discussions with a cutting chai actually made our day. Even those faltu discussions were meaningless without a cup of tea at chai ki tapri. Tea had just became a medium for everyone to get together at night.
It's been 2 years now that I am out of that place but whenever I take a sip of tea in the morning, the taste of that cutting chai comes to my mind. Tea makes me nostalgic.
I still miss those days. Those golden days of my life. I wish I could relive them once again.
I would also recommend you to check out my fellow blogger, and friend Pooja Kapoor blog https://thebanterinmyhead.wordpress.com/ and read about her wonderful ' tea memory '.